Looking for a way to instantly boost conversion? We found 59.
More conversions mean more cash. But if you're an entrepreneur, you know it's not that simple. At Variance Marketing and the companies that came before, we had to learn some tricks of the trade in the process. And today, we're willing to share some great tools for conversion rate optimization that we found along the way.
This is one of the most extensive lists you'll find. It's a collection curated by our team, which means we know these work. Give them a try and let us know what you love the most in the comments. The list is organized by category: Analytics, Process Management & Workflow, Research & Insights, Tactical, and Testing.
Analytics
1. Adobe Analytics
Adobe Analytics will convert customer data into customer insights. It segments your audience and offers other demographic and psychographic insights. If you understand your audience, then they'll come back for more.
G2 reviews: 4 / 5 Stars
2. Clicky
Clicky provides real-time web analytics with deep detail on visitor segments and statistics breakdowns for individual visitors, plus a collection of other powerful tools. Making sure every visitor is happy will dramatically improve your conversion rates over time.
G2 reviews: 4.2 / 5 Stars
3. Decibel Insight
Decibel Insight monitors user behavior on websites and apps, allowing developers to refine CX. It points out specific trouble spots within the platform by analyzing metrics and behaviors, which is helpful for speedy improvements. This is a straightforward channel for conversion rate optimization.
4. Formisimo
Formisimo analyzes the forms on your website and helps you optimize them to increase conversions. The platform gives suggestions based on the stats to help you understand the practical application behind the numbers and make better, more data-driven decisions.
5. Google Analytics
Google Analytics is a staple in the CRO tools sphere. The free website analytics tool is easy to set up and it's helpful for optimizing any website. While it's relatively bare-bones, it's also free and it offers a lot of information.
G2 reviews: 4.5 / 5 Stars
6. Heap Analytics
Heap Analytics tracks user traffic automatically. The tool provides a code-free approach to navigating tracking and analytics. Heap is also great because it scales from accommodating startups to Fortune 500 companies. Once you're sure your users are happy, the conversions will roll in.
G2 reviews: 4.3 / 5
Stars
7. Kissmetrics
Kissmetrics offers insights for user behavior analytics and takes it a step further to help you create behavior-based emails to optimize conversions for your audience.
G2 reviews: 4.1 / 5 Stars
8. LuckyOrange
LuckyOrange is one of the most affordable options for conversion rate optimization using an analytics suite. It offers a powerful analytics dashboard plus recording, heatmaps, customer chat and conversion funnels tools. This is definitely one of the best bang-for-your-buck options for marketers who are getting started.
G2 reviews: 3 / 5 Stars
9. Mixpanel
Mixpanel is great for product-focused work and goals. The software offers analytics and insights geared specifically toward customer conversion and retention. This tool was made specifically for product managers who need to drive up their conversion rate.
G2 reviews: 4 / 5 Stars
10. Mouseflow
Mouseflow is a powerful heatmap tool used by a lot of big-time customers who are really focused on optimizing their conversions. It tracks user behavior with tons of heatmap tools and some other services like funnel analysis, session replay and form insights.
11. OpenHallway
OpenHallway is a simple UX tester that includes video results. It's pretty basic, but it's a good option for very small companies with a pay-per-test option. This is a great option for quantifying the why behind usability decisions, in order to drive conversions based on statistics.
12. Pingdom Website Speed Test
Pingdom's Website Speed Test monitors the load time for web pages and offers analysis and insights for each page in order to optimize opportunities for customer conversion.
13. Piwik
Piwik is an open-source analytics platform that offers free analytics for self-hosted accounts and gives you complete ownership of your data and assurance of privacy protection. It offers a specific e-commerce log for super detailed conversion analytics and suggestions.
G2 reviews: 4.3 / 5 Stars
14. Qualtrics
Qualtrics develops online surveys with data to back up your decisions. They offer easy market research and specific platforms for optimizing customer experience and improving product experience. Both of these tools can seriously increase your conversion rate optimization.
G2 reviews: 4.6 / 5 Stars
15. SimilarWeb
SimilarWeb is a valuable tool for tracking your company's growth and conversions against your competitors. It will help you grow your digital market share and target audiences likely to convert.
G2 reviews: 4.5 / 5 Stars
16. Woopra
Woopra offers a lot of tracking tools across many of your potential marketing channels, including website, app, and email for a big-picture view of your customers and their preferences. Understanding how your audience works and responds to each of your approaches will help you create high-conversion content for them.
G2 reviews: 4.2 / 5 Stars
Process Management & Workflow
17. Canvas
Canvas by Campaign Monitor is a great tool for easily building a beautiful HTML email template, especially if you have limited coding experience. Spending less time making your email template will give you more time to create high-converting content, and a great-looking email will attract more potential customers.
18. Confluence
Confluence is a really useful tool for teams that are collaborating on their content. It's a great place to store company resources, information, notes, and other valuable assets. More productivity will help your team drive more conversions.
G2 reviews: 4 / 5 Stars
19. Geckoboard
Geckoboard is a beautiful TV dashboard software for businesses that want to increase its teams' productivity and motivation. It publishes real-time metrics updates to keep the team on track with company goals like high-priority needs and rising conversions.
G2 reviews: 4.3 / 5 Stars
20. Land-book
Land-book is like a digital gallery for digital works of art. It curates beautiful websites to help creatives find inspiration and motivation. Whenever you need an idea or a push, check this out.
21. Really Good Emails
Really Good Emails by Campaign Monitor is a lot like Land-Book, except it's for emails. It's great inspiration, serious motivation, and gives you a direct glimpse at what top-tier marketing and conversion rate optimization looks like.
Research & Insights
22. Buzzsumo
Buzzsumo helps marketers analyze and target the best content for the best influencers in a specific market. This is great for increasing your reach to expand your audience and optimize your conversion rate.
G2 reviews: 4.5 / 5 Stars
23. Clicktale
Clicktale offers a collection of tools for conversion rate optimization such as psychological analytics, path and conversion analytics, and UX insights. Its case studies prove that an understanding of customer behavior helped to optimize customer engagement and conversions.
G2 reviews: 3.9 / 5 Stars
24. Crazy Egg
Crazy Egg homes in on improving a website's bounce rate using various heatmaps with a lot of information. Top heatmaps include click traffic, scrolling patterns, and audience history and insights, so you've got a wide variety of tools to take advantage of. The software can also provide snapshots, recordings, and A/B testing for a true package of conversion rate optimization tools.
G2 reviews: 3.9 / 5 Stars
25. Fivesecondtest
Five second test by UsabilityHub knows first impressions matter. With this tool, you can test any page for design clarity, user recall, and customer response. It's great for home pages, funnel landing pages, or even logos, brochures and other marketing products. The reports offer direct user feedback phrases for optimizing your site and ultimately increasing conversion rate optimization.
26. Headline Analyzer
Headline Analyzer from CoSchedule is really helpful for learning how to develop the more productive, conversion-driven yet user-friendly content. For everything from blog post titles to email subject lines, it's important to start with a punchy lead.
27. Hotjar
Hotjar is a simple script that is used by huge companies and startups alike. Primary offerings include heatmaps, visitor recordings, conversion funnels and form analysis. It's all presented in a friendly interface that makes it easy to optimize conversion rates with one package.
G2 reviews: 4.4 / 5 Stars
28. Inspectlet
Inspectlet tells you why when Google Analytics tells you what, according to their homepage. This heatmap tool reveals what users are looking for on your page and helps you refine the conversion process with funnel analytics.
G2 reviews: 3.8 / 5 Stars
29. Intercom
Intercom is a customer messaging platform that kills two birds with one stone: It keeps your customers happy, and it tells your development and marketing teams what needs to be fixed or improved. It's a win-win for conversion rate optimization.
G2 reviews: 4.3 / 5 Stars
30. Olark
Olark is another awesome customer messaging platform that helps turn happy customers into conversions. Customer support via live chat is critical for managing company reputation, increasing sales, and continuing to acquire leads.
G2 reviews: 4.4 / 5 Stars
31. Qualaroo
Qualaroo develops powerful surveys that can target specific visitor segments to gain quantitative and qualitative information about your audience. Once you know more about who your customers are, you'll know a lot more about what drives their decisions- and about how to build your conversion rate optimization.
G2 reviews: 3.5 / 5 Stars
32. SessionCam
SessionCam analyzes your website's customer interaction, then automatically identifies some of your barriers to increasing your conversion rate. Its optimization tools suggest high-priority tactics based on recorded activity and customer behavior insights.
33. Silverback 3
Silverback is a usability testing app for Mac. The simple interface isn't here to be the most beautiful or insightful, but the tool is affordable and helpful for recording and highlighting usability tests.
34. SurveyGizmo
SurveyGizmo is a survey software that collects any kind of data with a wide range of question formats. Anything from audience sentiment to basic contact info is supported here, and the interface is high-quality. It's helpful for market research, marketing, and customer experience so you can accomplish a few other tasks while you're growing your conversion rate.
G2 reviews: 4.5 / 5 Stars
35. SurveyMonkey
While SurveyMonkey started out as a powerful survey tool, it's expanded its reach into other equally powerful services: the company offers market research with SurveyMonkey Audience and taps into CX challenges with NPS automation. SurveyMonkey is really branching out into this sphere, and it'll be interesting to watch this suite develop.
36. TruConversion
TruConversion offers analytics feedback and insights for optimizing your website and CX. It also includes a cool microsurvey feature for quick feedback on a simple question so you can make decisions that are backed by data without interrupting your workflow. At Variance Marketing, we're fans of making numbers-based decisions to optimize conversions.
37. Typeform
Typeform is probably the most beautiful form builder available. We love their interface, and it can be used for anything from payment (powered by Stripe) to surveys to registration. It's a great way to keep people engaged with your content while you generate leads, segment audiences, and of course, drive conversions.
G2 reviews: 4.5 / 5 Stars
38. UsabilityHub
UsabilityHub advertises it can "settle design debates with data," because we've all found ourselves down a rabbit hole on a "quick suggestion" during a (not-so) "quick meeting." We highlighted a few other UsabilityHub products in this article, but you should check out the entire suite of tools for optimizing your conversion rate.
39. UserTesting
UserTesting allows marketers to get videos or real people speaking their thoughts as they're using your website. Results come in within the hour, and less experienced testers can hire out the development process on the site.
Tactical
40. Clickfunnels
ClickFunnels automates the guesswork behind developing conversion funnels. It educates you on your choices and gives step-by-step help to get your funnel set up. At Variance Marketing, we really believe in the value of our funnels for our conversion rate optimization.
G2 reviews: 4.4 / 5 Stars
41. Convertkit
ConvertKit is an email marketing service that boasts a custom, tailored approach to your company's email strategy. Originally built for bloggers, the interface offers helpful automation rules using an "if this / then that" sequence. Beyond bloggers, other customers in spheres such as podcasters, course creators, and small service-based business owners have seen success in driving conversions with ConvertKit.
G2 reviews: 4.4 / 5 Stars
42. Deadline Funnel
Deadline Funnel is a must-have for any business if you're looking to optimize your conversion rate. They offer an easy solution for embedding countdown timers in emails, and they'll sync with the countdown on your webpage. It's an evergreen deadline system which means the timer is unique for each customer based on the trigger you determine. 
43. Demio
Demio is a fantastic platform for building your audience base and forming relationships with customers while you broadcast your webinar. An easy setup process and great accessibility for attendees makes Demio one of our favorites for connecting with our customers and increasing our conversions at Variance Marketing.
44. Drift
Drift is really cool because it poses as customer support with a marketing and sales emphasis. The popup box in the corner is similar to Intercom, except it builds customer relationships by offering individual sales meetings, so you can take the conversational approach. It can be an incredible asset in your conversions toolkit.
G2 reviews: 4.3 / 5 Stars
45. GrooveJar
GrooveJar is a tool that's easy to install and even easier to boost email conversion rates with. It runs a countdown on your webpage with a limited-time offer, which implements a sense of urgency to motivate visitors to convert.
46. Hello Bar
Hello Bar helps websites become more effective and convert more customers. The service promotes content on social outlets, organizes your subscriber data, optimizes your follow buttons, and A/B tests your messages. They'll also optimize your website's content so visitors see the right message depending on who they are, all through header notifications, popups, and overlays.
47. Variance Marketing
25 Minute Marketing Assessment We increased our website conversions by 338% in under 72 hours when we created Variance Marketing for our other business, and we have countless stories from customers about how Variance Marketing has totally transformed their business, too. We believe in what we do, and we believe Variance Marketing optimizes conversions.
And we want you to believe in Variance Marketing too: Try Variance Marketing on us for 14 days. Let us know what you think!
48. Sumo
Sumo is a beautiful email conversion tool implemented in simple website pop-ups. With many styles and various formats to choose from, this tool will increase your email signups in minutes.
49. Wheelio
Wheelio claims the prize as the "world's first gamified pop-up." It's a typical email conversion pop-up, except it has a unique catch: once visitors enter an email, they get to spin for a coupon. They claim an average acquisition rate is an astronomical 9%, so it's definitely worth a try. It's offered as a Shopify app.
50. HubSpot Marketing
HubSpot is a customer relationship power tool. It offers a full suite of software for marketing, sales, and customer success, and it's all built on a free CRM tool. It also offers insight into each customer so you'll learn more about how to connect with your audience and increase conversions as a result.
G2 reviews: 4.4 / 5 Stars
Testing
51. AB Tasty
AB Tasty provides actionable insights, personalization, user engagement tips, and testing to boost conversion rates. The user insights and personalization tools are particularly helpful for diving in to optimizing target pages, using contextual targeting and improving UX, which all help to optimize your potential for conversions.
G2 reviews: 4.5 / 5 Stars
52. AppsFlyer
AppsFlyer is a mobile attribution and marketing analytics platform that can measure nearly anything your brand puts out there. It also integrates with a plethora of other platforms so you can now exactly where your numbers come from and make sure they match up. Ultimately, AppsFlyer helps you determine which users engage with your app, and why.
G2 reviews: 4 / 5 Stars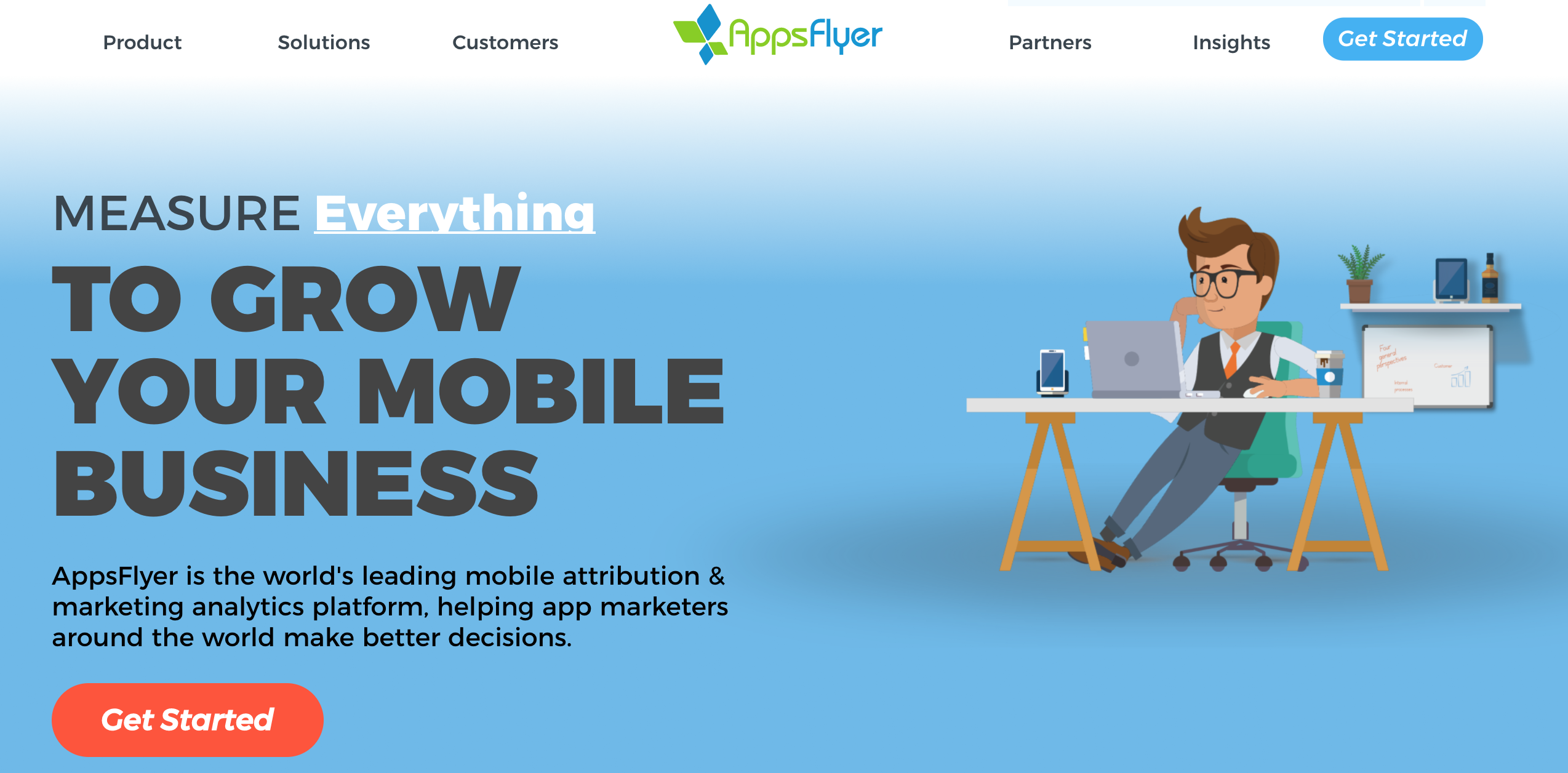 53. Browserstack
BrowserStack will make sure you never have to bomb all your Slack channels with "will you open this on your phone/browser/tablet" requests ever again. It provides free, instant access to all mobile and desktop browsers, so you can make sure your website is compatible and responsive across the board.
54. Convert
True to its name, Convert helps you improve your conversion rate. This powerful testing tool offers optimization tips and insights behind test results, and it includes a vast set of experiment options, all in a WYSIWYG editor.
G2 reviews: 4.7 / 5 Stars
55. Ethnio
Ethnio is an effective intercept for finding real people who are using your website to participate in surveys for UX research. Advanced targeting tools will help you ensure you're getting data from the audience you need to hear from. This is one of the most highly targeted and personalized survey tools available, and it's sure to help you increase your conversions.
56. Google Pagespeed Insights
It's a basic, tried-and-true tool, but nonetheless, Google's PageSpeed Insights can quickly find and identify the most critical issues affecting your pagespeed. It's some low-hanging fruit in the world of conversion rate optimization, but if your page doesn't load or loads slowly, you'll lose customers.
57. Hubspot Website Grader
Hubspot's Website Grader is another easy check: Simply enter your web address and email, and you'll get a visually beautiful analysis of your website's overall score, then points broken down by performance, mobile, SEO, and security with itemized indicators explaining your score and offering tips for improvement.
58. Optimizely
Optimizely is a speedy fix for running A/B and split tests, in addition to multivariate testing. It's versatile enough to test any decision you may make for your site, whether it's design or algorithms. It promises better results and improved customer experiences, both of which will attract converting visitors to your site.
G2 reviews: 4.4 / 5 Stars
59. Unbounce
Unbounce by Optimizely offers beautiful templates for high-converting webpages, like home pages, funnel landing pages or special offer pages. We really like the one specifically designed for marketing e-books. It comes with form templates and other conversion rate optimization tools built in for a seamless WYSIWYG design experience.
G2 reviews: 4.4 / 5 Stars
Join our community of entrepreneurs and online marketers!
Our Facebook Group is aimed at helping entrepreneurs & online marketers collaborate, share ideas, ask questions, and help each other achieve success. Our group has been gaining a lot of traction ever since its inception and if you're truly interested in learning more about this industry to help yourself or your business – then you need to join ASAP.
Click here to join out community!
Ready for a conversion rate optimization makeover?
There you have it: Our tried-and-true tools we love for optimizing conversions. Click here for a 25 Minute Marketing Assessment of your business.
Let us know which tools are your favorites in the comments. Start the conversation about what works for you, and what other tools we should add to this list.